A typical situation
The continuity in a customer relationship dominates the business development strategy. Sales representatives are operating on the playing field without a clear focus. This leads to reduced potential exploitation and to little systematic acquisition of new customers. Ultimately, sales activities are focused on maintaining the status quo. The opportunities for growth remain untapped.
You will ask critical questions
What are our attractive growth potentials?

How can we tap into them?

How do we tighten the focus in our sales work?
The strategic orientation is the key driver for increasing your sales effectiveness. It provides the framework for action and the guidelines for the operative sales policy. In a project-oriented collaboration, we develop the modules of a clearly defined sales strategy.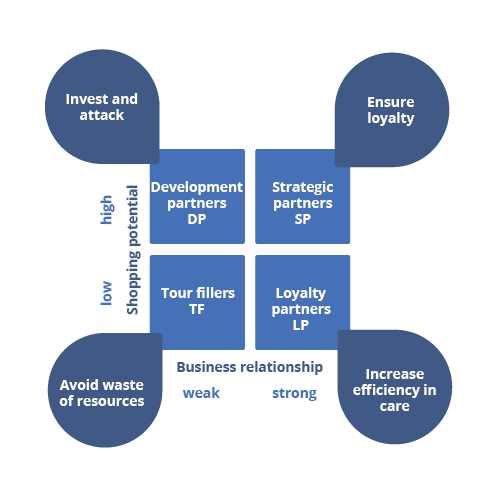 The strategic playing field is defined according to the 3 dimensions of customer target groups, products, and regions. It provides the context and focus for business development.
The sales model as a strategic topic answers questions regarding the targeted channel strategy, the competitive acquisition process, and the added value in the customer care approach.
A potential analysis for the defined playing field provides transparency of growth potentials for the dimensions of customer acquisition and customer development and thus provides a framework for quality improvement in operational sales planning.
Segmentation of customers in an opportunities potential portfolio enables formulation of segment-specific account strategies – attack, defend, or efficient care.
As a result, you provide your sales organisation with a clear pathway for superior effectiveness in their operational sales activities:
The playing field has been clearly defined.

The attractive growth potentials that you want to tap have become transparent for everyone.

The way toward winning the competition of customer acquisition has been mapped out.

The priorities for using resources have been defined.
A tighter focus yields greater effectiveness and efficiency. This way you sustainably set your sales on a profitable growth course.