A typical situation
Sales representatives receive their targets at the beginning of the year, but loose focus throughout the year. They follow their daily routine based on a defined tour plan and have all the arguments available for supporting their performance. As business leader, you have the feeling that the business is operating without being actively managed.
You will ask critical questions
What is the appropriate detail in our sales planning?

How do we anchor our important goals in the operational sales activities?

How do we ensure the professionalism of the sales contacts?

How do we manage deviations from our operational sales plan during the year?
An intelligent system of sales management keeps the organisation on the path of growth. It consists of 4 essential building blocks (Plan-Do-Check-Act) and is embedded in a highly effective CRM system and in an adequate performance-based remuneration system.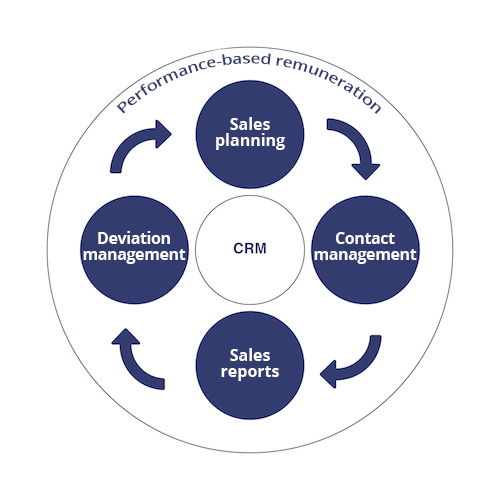 Any sales management requires sales planning. We design the planning system in collaboration with your sales management and controlling, starting from the information input and walking you through the design of planning templates and the planning process. Central questions address the appropriate details (products and customers) and involvement of the employees. In addition to sales figures, the sales plan also addresses necessary initiatives and related resource allocation.
The sales plan is implemented by executing individual sales contacts. Contact management tools facilitate and control the preparation, implementation and documentation of individual customer contacts. It is a working tool for the sales force, which enables management of sales processes in line with defined targets. It is a standard functionality of CRM systems. Together with your sales organisation, we build the process that will then be supported by CRM.
The topic of sales reports is a broad one and usually subject to personal preferences. Standardisation provides a uniform framework for deviation management. A drill-down system, from the dashboard through to customised ad hoc reports, ensures that the sales organisation is fully informed, that reporting is proportionate to the scope but not out of control. Key information concerns deviation from the sales plan. We support you in designing the dashboard and in configuring the standard reports.
The deviation management module concerns the sales meetings and one-to-one meetings with the sales representatives. We ensure the correct types and frequencies of meetings and high efficiency with the development of a standard agenda and a template for task management.
As a result, you receive a sales cockpit that enables the sales staff to become designers of their own sales success stories. This will provide:
comprehensive transparency with respect to sales opportunities

identification of the sales organisation with ambitious goals

a high level of quality in the sales plan execution

consistent work toward achieving goals