A typical initial situation in the digital world
Customer loyalty is declining and the company has increasingly less influence on the purchase decision process. At the same time, customer demands are increasing in terms of availability, accessibility and individualisation of products and services. Last but not least the growth of online sales channels is increasing the pressure on selling prices and thus also on sales costs.
You will ask critical questions
What is our situation and how well prepared are we for the digital future?

What initiatives do we need to take?

What are our priorities in the digital transformation?
For the digital transformation of the sales system we follow a modular approach with 4 building blocks.
DIGITAL TRANSFORMATION MANAGEMENT
In the Digital Fitness Check we evaluate the maturity status of the driving forces of the digital transformation and the digital penetration level of the existing sales system. We make the needs and opportunities of digitisation transparent, but also the risks you run into with the digital train passing by your company. As a result, you will receive a digitisation roadmap with the necessary initiatives and priorities.
The CTP Assessment analyses the customer journey within your company. The customer touch points are assessed along two dimensions, the customer experience and the efficiency (cost). The change impact of a rapidly developing digital environment on customer touch points is evaluated. As a result, the CTP Assessment delivers the improvement potential for the next step in the transformation process.
In the Digital CTP Design, we develop the digital sales process and we design the digital customer interfaces. We focus on 3 key driving forces of digital transformation: WEB leads, process automation, and digital communication. The future CTP Design is to provide your customers an authentic experience on their seamless journey through your company.
The definition of service standards and relevant measurement points as well as measuring tools provides you with full transparency as to what your customers' journey with your company is really like.
We support the change process with Digital Transformation Management, customising it to your needs and your internal resources. That includes description of requirements for external tool suppliers, project management and active change management with regard to sales staff.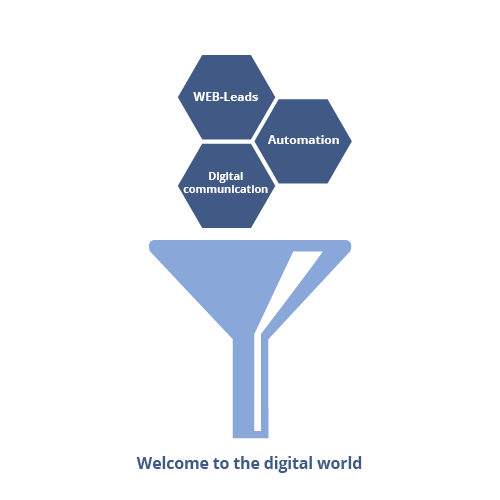 You utilise the relevant elements of the digitisation megatrend for targeted evolution of your sales system and ensure your future competitiveness in the digital world.
You develop a structured access to the topic of digitisation.

You develop a shared understanding of the requirements, need for action, and priorities within your management team.

You focus on the essentials and avoid getting bogged down.

You can stay on the ball and set the right course in good time.