A typical initial situation
Your employees are working on complex processes and projects of substantial importance for your company. Due to lack of time and resources, project team-members are neither contributing as requested nor meeting project timelines. A defined management system is not being adhered to, thus leading to cost and schedule overruns. The necessary documentation for the steering committee or your customers is incomplete and leads to expensive follow-up work. Furthermore, process and project management are often used with the same meaning, which leads to incorrect results, since both management tools pursue different objectives.
comprehensive,
very complex
TASKS SIMILAR TO PROJECTS
complex, crossing organisational boundaries
You will ask critical questions
How can we easily structure, execute and document my company's processes?

How do we create a motivating environment for the process- and project-participants?

How do we measure the impact of process- and project management on the performance of the company?
The term "project" means a targeted, unique initiative. To implement this initiative, the project management develops an individual plan, which sets the targets, defines the necessary resources, determines measures and defines the start and finish dates. A project is essentially a directed, structured procedure that is geared towards the development of a new product, product improvement or delivery of a complex service. The uniqueness of the initiative distinguishes the term project from the term process. While projects as an objective produce something new, processes are characterised by the repetition of already established procedures that need to be improved. Nevertheless, process and project management utilise some common rules, steps and concepts.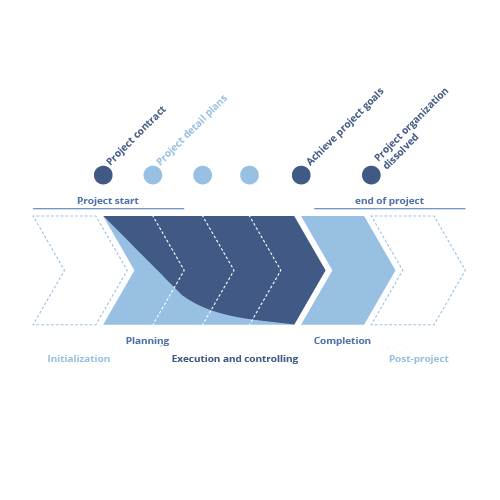 Project Management
Together with you, we develop a project management system that takes into account your company specific topics, but that is designed so flexibly that each of your projects is presented with the right emphasis. Consistent milestones review project progress and control quality, costs, deadlines, and resources. An adequate escalation process takes into account the level of motivation and the leadership style, in order to get the project objectives into the focus. On the basis of a specific project in your company, we moderate implementation of all tasks in the required quality and within the agreed timetable.
Process management
The corporate strategy is the decisive driving force in manifesting your core processes. It provides the guiding principles and the framework for the operative business. In collaboration with your management team we develop the building blocks of a customised process management system.
The strategic playing field is defined according to the existing core processes. It provides the framework and focus for business process improvement.
The objectives and key performance indicators answer questions regarding the company's strategy, the definition of process standards and measurement of process performance.
The organisation covering the defined playing field ensures the transparency of process ownership and defines the management interfaces between process and function.
The management processes to be defined concern the monitoring of process performance, deviation from defined standards, and the continuous improvement process.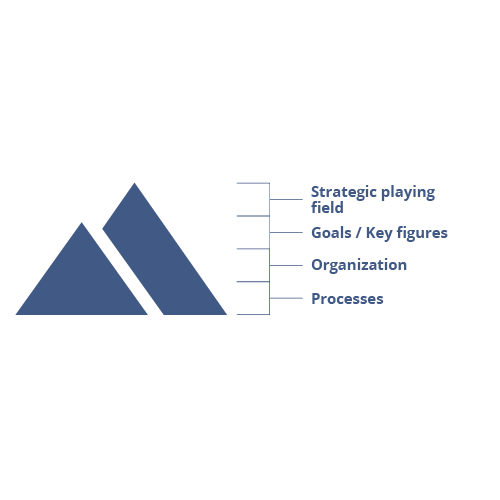 As a result, you provide your employees the opportunity to design competitive processes, to ensure the quality of their work, and to reliably deliver projects with added value for the customers. You will receive:
a project and process map for long-term success

clear objectives that can be measured

an effective learning organisation

more focus in the utilisation of scarce resources