A typical initial situation
Commission systems are quite common in sales. They are mostly one-dimensional using turnover or contribution margin as key performance indicators. They are very often counterproductive in sales development. They allow almost no room for the rollout of sales objectives within the sales organisation and are a barrier for changes in customer relationship. Sales staff very often adopt behaviours of external commercial agents.
You will ask critical questions
How do we generate identification of our sales staff with important sales goals?

How can we establish the right incentives?

How do we achieve a remuneration system that offers equal opportunity for everyone?
In redesigning the remuneration system for your sales organisation, we are guided by your sales strategy and we utilise the basic elements of performance-based remuneration.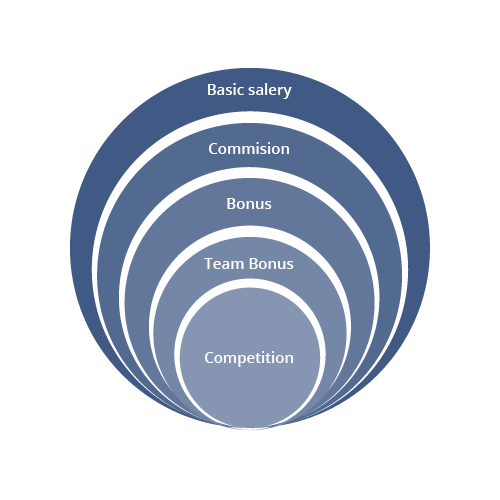 We refer to the different role profiles of sales staff and to your sales score card and develop a menu of relevant targets for each relevant function. This results in a list of specific performance indicators to be used for operating a performance-based remuneration system.
The design of the model involves topics like weighting of performance indicators, scales for individual performance measurement and scale limits (min-max).
We focus on the design of related management processes, such as target agreement, performance dialogue and performance assessment, because only in this way the performance-based remuneration system will become a management tool.
We create the business cases for implementing change from the point of view of the company and from the point of view of individual employees. This demonstrates to employees the advantages and opportunities of switching to the new compensation system.
In the implementation phase we provide the necessary process formats and tools, and we train managers in the execution of related management processes.
Your HR department is heavily involved in the entire process. If applicable, we involve also the Works Council.
Your sales managers will receive an additional management-tool for successfully managing execution of the operational sales plan.
The target agreement is the framework for strategy communication within the sales organisation.

The main sales goals will be sustainably anchored on individual level.

The targets are followed up during the year via the performance dialogue.

The employees are motivated to achieve the agreed targets in order to attain their target income.