A typical initial situation
The company is facing a critical situation due to a sharp decline in sales, for example as a result of dependence on major customers or a lack of product development, and excessively delayed reaction with cost adjustments, combined with significant management failure. The banks are no longer willing to provide sufficient liquidity without significant turnaround initiatives in the company.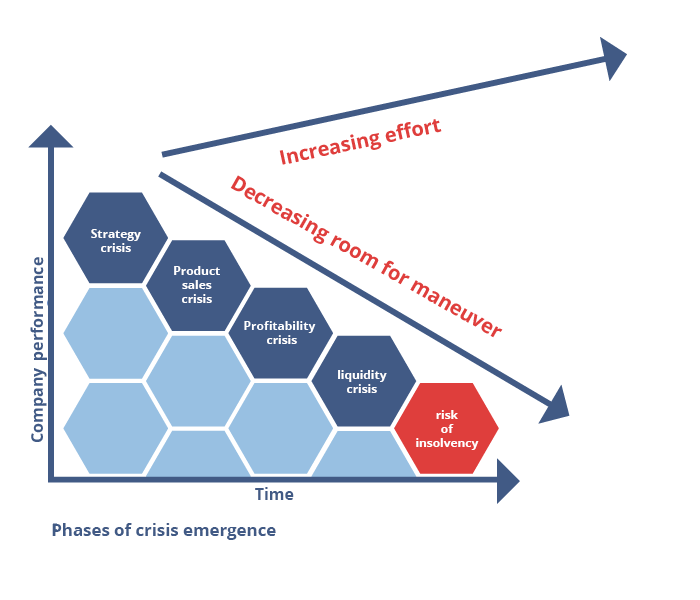 You will ask critical questions
How can we ensure the liquidity of the company?

How can we persuade the banks?

How can we win back the trust of our customers and suppliers?

How can we ensure the loyalty of key personnel?

How do we rapidly obtain new orders?

How can we streamline our processes and thus reduce costs?
We conduct a comprehensive analysis of your company in order to accurately determine the critical issues. This includes not only a financial analysis, but especially interviews with employees, the management team and key stakeholders. Since time is a critical factor, together with you we first work out a short-term cash concept. The aim is to restore confidence with the banks, in order to win time for more indepth restructuring measures. We develop a master plan and provide close monitoring of related implementation. We generate the necessary confidence in the company's turnaround via regular provision of information to all stakeholders (employees, banks, suppliers, health insurance companies, tax authorities).
Company analysis
Company value
Strengths & weaknesses
Risk profile
Pre-rating
Restructuring plan
Budgeting
Quick wins
Strategic initiatives
Your company gets back on the road to success.
The stakeholders have confidence in the restructuring concept.

Your company's solvency is assured.

Sustainable restructuring measures are implemented.